As an experienced reader of this genre, you might just have heard this question before. I know I have. Sometimes it's from friends who know what you read and are curious. Sometimes random people find you on the internet and ask the question (blogs or GoodReads or even Amazon).
It's not an easy question to answer. For one there are many many books to choose from. Long and short stories. For another it's also a matter of taste. You may like liquorice, but some are disgusted by the taste. Same goes for books.
Time for a handy post along with some tips. These are the books I generally steer people towards. What would you recommend?
The Tips:
Before you start searching for m/m books keep this in mind:
1. Know yourself
You know what you like and what you don't like. Even if you are not familiar with the genre, you know what your reading tastes are like. Don't start reading Sci-Fi if you never liked Sci-Fi before. If you are squeamish about BDSM… well you get the idea
2. Don't start with a short story
I can just hear some of you thinking: why not? Yes, there are short stories that are good as an introduction, but generally short stories are too…well…short to leave a good impression. They are usually fast, easy reads without a whole lot of depth (yes, yes, don't get your panties in a twist, there are exceptions). For someone new to the genre, I find it's not a good intro.
3. Trust your instincts
Don't follow reviews blindly. Heh, this coming for a reviewer. Seriously though, reviews are opinions, objective (hopefully) but not always so. One person will rate a book 5 stars, the other 1 star. Look at the average of stars before making up your mind. Also, look at the excerpts.
4. Have fun!
But most of all! Have some bloody fun! Don't take it too seriously. Books are meant for fun, to draw you into a story, explore a world, cry along with the main character or go on an adventure.
The Books
There are many many books and many many lists. The following books are a selection of books that I think make a good introduction!
When James Killian comes out to his father, he finds himself banished from his home and fired from his job. His savior comes in the unlikely form of Ethan Whitehall, his older brother's best friend. Ethan has always had a soft spot where Jamie Killian was concerned, and he will do whatever it takes to keep his new lover safe.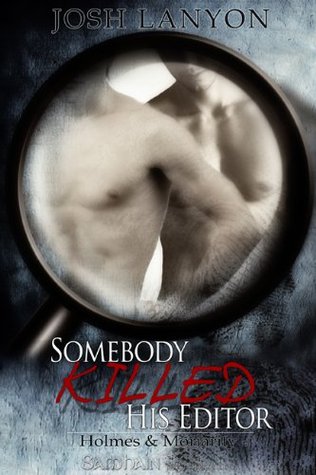 Josh lanyon – Somebody Killed his Editor Holmes & Moriarity
Thanks to an elderly spinster sleuth and her ingenious cat, Christopher Holmes has enjoyed a celebrated career as a bestselling mystery writer. Until now. Sales are down and his new editor is allergic to geriatric gumshoes.
On the advice of his agent, he reinvents his fortyish, frumpy, recently dumped self into the sleek, sexy image of a literary lion, and heads for a Northern California writers conference to try and resurrect his career. A career nearly as dead as the body he stumbles over in the woods.
In a weirdly déjà vu replay of one of his own novels, he finds himself stranded in an isolated lodge full of frightened women—and not a lawman in sight. Except for J.X. Moriarity, former cop and bestselling novelist. The man with whom he shared a one-night stand—okay, maybe three—long ago. The man who wants to arrest him for murder.
A ruthless, stalking killer, or a hot, handsome ex-lover. Which poses the greater danger? It's elementary, my dear Holmes!
Charlie Cochet – an Intrepid Trip to Love
This book is free and can be found here
Tristan 'Trip' Hagan is a Husky shifter who was born to be the Hagan Clan's next Alpha, a position of honor and nobility, a position he never wanted and was all too happy to pass onto his younger brother. But when they discovered his brother couldn't have pups, the responsibility of continuing the Hagan Alpha line fell back to Trip. Under the weight of the Hagan Council's demand to fulfill his duty, Trip settled down and produced an heir, but after years of struggling to uphold his family's traditions, Trip found the courage to do what no other Hagan Alpha had done in the history of the clan: he came out.
Five years later, and Trip is living a happy life with his cheeky pup and their own little makeshift family. True mates within canine shifter clans are very rare, but Trip has had one since he can remember. Despite losing his heart to Boone twenty years ago, Trip holds little hope of ever getting to bond with the sexy Enforcer, as it's against clan laws for pure-bloods to bond with half-breeds. With the call from their feral halves to seal the bond growing stronger by the day, can Trip and Boone find a way to be together without losing everything?
This story was written as a part of the M/M Romance Group's "Love Has No Boundaries" event. Group members were asked to write a story prompt inspired by a photo of their choice. Authors of the group selected a photo and prompt that spoke to them and wrote a short story.
As the leader of an elite British group that hunts criminals of the magic world, Christian Wetherly comes to the U. S. undercover, posing as a British cop, to investigate a series of murders he suspects have been committed by a dark mage. He never expects, however, to find himself intensely attracted to the American police detective in charge of the case. Christian has long struggled with his hidden desires and hasn't admitted them to anyone. But Alec Anderson stirs something deep within him that's difficult to ignore.
Still…even if he could master his fear of coming out, Christian's dedicated himself to protecting the world from magic terrors. It's a dangerous life an ordinary human could never understand or accept. And to complicate matters, Alec's emotionally vulnerable, still grieving the death of his previous lover, a fellow cop killed in the line of duty. So Christian's determined to keep his true occupation and powers hidden from Alec.
Neither man can deny the powerful chemistry that burns between them, and both realize they're falling hard for one another, yet with so many secrets and complications, a relationship seems impossible.
When the two men become the target of the dark magic, however, and clues about an ancient legacy come to light that indicate Alec may not be exactly what he seems, can they find the strength to tear down all the barriers between them and risk their hearts in order to save each other's lives?
Cassidy Monarch had dreams — to sing, to be famous, to tour the world at the head of his own rock band. Then his parents were killed in a tragic accident, leaving him to raise his two siblings. Determined to hold on to what remained of his family, Cassidy settled into an ordinary life, his dreams
of fame reduced to occasional nights of singing at karaoke dives. But his careful, ordinary life
began to fray with his new job, and the beautiful, charming boss who reminds him of all the things he tried to stop wanting.
Malcolm Osborne is a classic rags to riches story, a foster child who wound up with the perfect family and more money than he knows what to do with. He's wealthy, beautiful, successful, and completely miserable. Then he hires a ne
w worker for his office, a young, hard-working man with a sadness in his eyes that Malcolm aches to banish, hoping that in doing so he will be rid of his own loneliness as well.

K.A. Mitchell – Life, Over Easy
Watch that first step. It could turn your life upside down.
Until a fall ended his Olympic diving career, John Andrews lived for the seconds he spent in the air. Now he's adrift on a college campus, grounded by paralyzing vertigo and double vision. Worse, he sees shimmering colors over everyone's heads.
The last is hardest to ignore, and impossible when it comes to Mason. While sex with the hot, moody computer major gives John a rush as heady as diving, Mason's the only person John's ever seen surrounded by two distinct colors.
Mason feels like a stranger in his own life. His lover is dead, and he drowns his guilt in bourbon and sex-until John's innocence reawakens the man he used to be. After Mason gives the young virgin a proper introduction to sex, he plans to send him on his way. But John sees too much to make things that easy.
For John, their connection is more than just sizzling sex, it's something worth fighting for. The more he learns about the colors, though, the more he realizes the free-spirited Mason isn't free at all. John doesn't take second place to anyone-even the dead.
Aaron is a whiz with computers but horrible with people. Painfully shy, it's sometimes all he can do to communicate when he's face to face with anyone. The fact that he has unusually red hair and gorgeous green eyes only makes it worse because people don't want him to hide. But then he's called upon to troubleshoot a problem with the laptop of Yoshiki Fukui, a big shot executive with his company.
Ki is brash, outgoing and painfully handsome and just being in his presence makes Aaron all jittery. When Ki asks Aaron to help him set up a state-of-the-art entertainment system in his new house, Aaron can't resist the lure. Little does he suspect that Ki's got more than just technical help in mind.
Charlie Cochet – Hell & High Water (THIRDS)
When homicide detective Dexter J. Daley's testimony helps send his partner away for murder, the consequences—and the media frenzy—aren't far behind. He soon finds himself sans boyfriend, sans friends, and, after an unpleasant encounter in a parking garage after the trial, he's lucky he doesn't find himself sans teeth. Dex fears he'll get transferred from the Human Police Force's Sixth Precinct, or worse, get dismissed. Instead, his adoptive father—a sergeant at the Therian-Human Intelligence Recon Defense Squadron otherwise known as the THIRDS—pulls a few strings, and Dex gets recruited as a Defense Agent.
Dex is determined to get his life back on track and eager to get started in his new job. But his first meeting with Team Leader Sloane Brodie, who also happens to be his new jaguar Therian partner, turns disastrous. When the team is called to investigate the murders of three HumaniTherian activists, it soon becomes clear to Dex that getting his partner and the rest of the tightknit team to accept him will be a lot harder than catching the killer—and every bit as dangerous.
~~*~~
Are these all the books? No, by no means, but they make a good start don't you think?
Which books would you add?