Recently someone asked me why I read romance. Romance is a go to genre when I read books. It's not all I read, of course. I read non-fiction too or stories focused predominantly on mystery or action and adventure. At the top of the list however is the romance genre (for the most part m/m romance).
Why? The short answer is: I like something more to my stories. The romance doesn't need to be the focus of the story, but I always like the journey of two people getting together. Sometimes I like the fluffy stories with the sweet, slow burn of romance that makes your heart melt. Sometimes it's the racy, hot, 'fan yourself' erotica. I like it all. On occasion even the dark erotica stuff.
So why this post? As I read primarily stories in the m/m genre I noticed something. We really like our drama. The more of it the better. We really really like our characters to suffer. They are thrown out by their parents for being gay at a young age. Live on the streets. Are raped (sometimes repeatedly), get in abusive relationships, on occasion do drugs.
Let's not forget getting shot, stabbed, run over. You name it, it's there. We like our gay heroes to be broken. Not a little bit, but a lot. Of course then there is something to be said to be picked up by a handsome hero. Ensue lots of hurt/ comfort. My personal favourite is always the nightmares. Lots of sex and cuddling after waking up from a nightmare.
No, no, don't get me wrong (put your pitchforks down, right now!), I'm not here to bash the genre. There is a lot of the same out there. Some stories can be overlaid with other and you have exactly the same. That is true for a lot of genres, though. Like with everyone genre – not counting those just on the rise – you have to be picky with what you read, or you become saturated. Luckily, there is also a lot of good stuff in the m/m genre.
So why then this post? I can hear you thinking it loud and clear.
Yes, there is a lot of good stuff in this genre, but it's distinctly lacking the fun, humorous, funny stories. I noticed it recently after I finished a really awesome, fun series that made me laugh out loud quite a few times. I realized this genre doesn't have many fun, light-hearted stories with a strong plot.
Humour is one of the hardest things to write or even incorporate in a story. Drama is easy, but a good comedy a lot with romance? Not so easy. Either it's overdone to the point that it's no longer funny or the humour is just not your type.
But I definitely would love to see more fun stories that give me a bellyache from laughing out loud!
What say you? What is the funniest story you ever read? Below are a few of mine!
The Spencer Cohen series by N.R. Walker
Spencer Cohen is the guy who gets answers to relationship questions. Playing the role of the new lover, his job is to make his client's ex realise one of two things: he doesn't want to break up or he really does. Either way, his client gets answers.
The ex would either apologize and beg, or turn and walk. But in the end, Spencer's client won. If he wanted his ex back and got him, it was great. If the guy walked away, then as hard it was for the client, he knew it was over. Regardless of the outcome, Spencer's work was done.
Andrew Landon's ex left him without so much as an explanation. But his sister can't stand to see him miserable, so, much to Andrew's dismay, they hire Spencer to be Andrew's new boyfriend to get the ex back.
For Spencer, it is never personal. Merely a business transaction. No emotions, no strings, no complications.
Yeah right. Even a blind man could see how this would end.
Holly Creek series by Poppy Dennison
Small town heroes and big town hearts.
Jefferson Lee Davis is happy with his life in the city until his favorite uncle has a bad fall and he rushes to Holly Creek to make sure Uncle Sherman is okay. Jefferson Lee knows how to navigate small Southern town's politics and the residents greet him with open arms. Everyone but the town's sheriff, Zane Yarbrough, that is.
Dogwood Days, the town's biggest festival is looming, so Jefferson has to step up and take over his uncle's job as the town blogger, even if that puts him right in the sheriff's path. Quirky neighbors, meddling family, and a sassy best friend all come together to make Jefferson Lee's life in Holly Creek a full-time adventure. When he loses his job back in the city, Jefferson Lee has to start a new job search that will take him away from the town he's learning to think of as home. Will this big city boy find sweet romance in the arms of a small town sheriff or will the allure of the city call him back?
Summit City series by Ethan Day
Boone Daniels seems to have trouble finishing things. Along with the half dozen or so novels he's started, only to abandon mid-way through, his love life could be best described as a series of drive-bys.
Boone has spent the past week staying at a ski lodge in the tiny mountain town of Summit City. He's been using his time alone to write while waiting for his boyfriend to join him for their anniversary.
What happens to Boone when he winds up dumped on the eve of his one-year anniversary and ends up at a bar having one too many cocktails? Wade Walker.
Holmes & Moriarity series by Josh Lanyon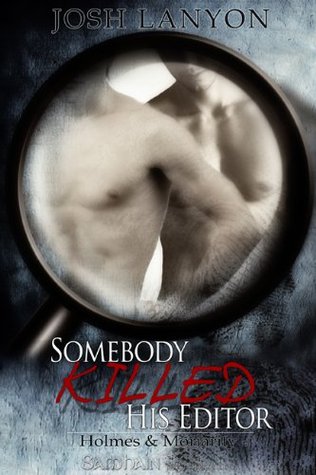 The road back to bestsellerdom can be deadly.
Holmes & Moriarity, Book 1
Thanks to an elderly spinster sleuth and her ingenious cat, Christopher Holmes has enjoyed a celebrated career as a bestselling mystery writer. Until now. Sales are down and his new editor is allergic to geriatric gumshoes.
On the advice of his agent, he reinvents his fortyish, frumpy, recently dumped self into the sleek, sexy image of a literary lion, and heads for a Northern California writers conference to try and resurrect his career. A career nearly as dead as the body he stumbles over in the woods.
In a weirdly déjà vu replay of one of his own novels, he finds himself stranded in an isolated lodge full of frightened women—and not a lawman in sight. Except for J.X. Moriarity, former cop and bestselling novelist. The man with whom he shared a one-night stand—okay, maybe three—long ago. The man who wants to arrest him for murder.
A ruthless, stalking killer, or a hot, handsome ex-lover. Which poses the greater danger? It's elementary, my dear Holmes!
Polestar by Josephine Miles
It's hard to flirt when sequins are chafing your bits…
Injured pole dancer Matt Lovell meets attractive radiographer Sal when he's in casualty for an x-ray. Trouble is, Matt's firefighter outfit is pretty convincing, and the longer he keeps up the pretence the harder it will be to reveal the naked truth: that there's nothing underneath his costume but a sequinned thong!
Slam! by J.L. Merrow
Limericks, lies, and puppy-dog eyes…
Jude Biggerstaff is all the way out and loving it – mostly. The Anglo-Japanese university graduate is a carnivore working in a vegan cafe, an amateur poet with only one man in his life. His dog, Bubbles.
Then there's "Karate Crumpet", a man who regularly runs past the cafe with a martial arts class. Jude can only yearn from afar, until the object of his affection rescues him from muggers. And he learns that not only does this calm, competent hunk of muscle have a name – David – but that he s gay.
Jude should have known the universe wouldn't simply let love fall into place. First, David has only one foot out of the closet. Then there's Jude's mother, who lies about her age to the point Jude could be mistaken for jailbait.
With a maze of stories to keep straight, a potential stepfather in the picture, ex-boyfriends who keep spoiling his dates with David, and a friend with a dangerous secret, Jude is beginning to wonder if his and David's lives will ever start to rhyme.
Warnings: Contains a tangled web of little white lies, a smorgasbord of cheesy limericks, a violin called Vanessa, some boots that mean business, and the most adorable little dog ever. Poetry, it's not…